Please read to and with kids…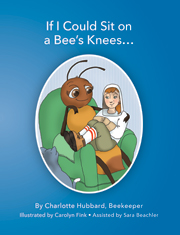 Charlotte's latest book If I Could Sit on a Bee's Knees has just been published. With the goal of getting bee-positive information in the hands of children, this book is available in a softcover edition at no or low-cost in limited quantities to non-profit organizations. It retails for $4.99, plus $3 shipping and handling (softcover), with profits allowing more books to be given to children; thanks!  A hardcover edition is also available ($13.99 + $3 shipping and handling).
Charmingly illustrated, this imaginary conversation with a bee addresses common questions, accompanied by a curious cat and detailed photographs. Simple rhyme and repetition make it appealing to children of all ages and anyone who "bee curious" about this marvelous, important bug.  
Order your copy now.
Pay online using Paypal (you do not need a Paypal account to purchase).
Checks may be made out to:
Tom's Bee-loved Honey
11046 Higley Circle West
Schoolcraft, MI 49087
All profits support further distribution of the book to kids.
Overview
Full color, 28-page book complete with photographs and illustrations. Ideal "read to me" book. Varying levels of interest, activities and vocabulary appeal to early through intermediate readers and kids of all ages.
Click here to download a PDF
Spanish version is underway; contact author if you'd like to be notified when it is available.
Softcover: 7.4 " x 9.7"
Hardcover: 8.5" x 11"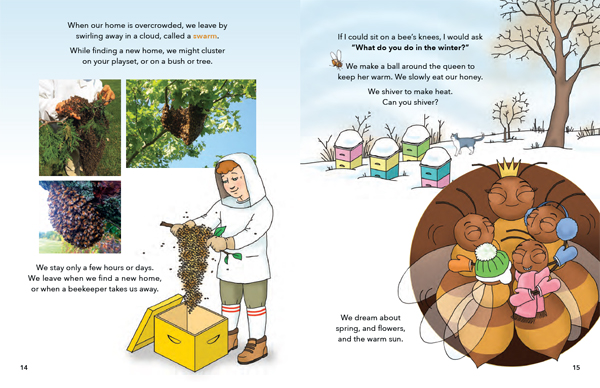 Free or low-cost versions
Free or low-cost softcover copies are available on a limited basis for distribution to children. Contact author to explore this possibility.
Non-profit organizations are welcome to purchase this book at cost for free distribution or as a fundraiser to support honeybees and / or literacy. "At cost" varies by how many copies are desired and geographic location.
Educator resources
Printables:
About the illustrator
Carolyn Robinson Fink is a graphic designer who usually creates advertising materials for clients, but has always been a doodler. She was thrilled with the opportunity to educate children about honey bees, and encourage them to read.  Learn more about her work at her website.